"Light in weight, Strong and Durable!" Carbon Fibers are nothing but a 21st. century high technology material. The fibers have low specific gravity, exquisite mechanical properties (high specific tensile strength, high specific elastic modulus, etc.) and attractive performances (electric conductivity, heat resistance, low thermal expansion coefficient, chemical stability, self-lubrication property, high heat conductivity, etc.). Those features have been stimulating Carbon Fiber users to develop numerous kinds of applications.
Light in Weight and Strong (Mechanical Performances)
Carbon Fiber Reinforced Plastics (CFRP) is superior to steel or glass fiber reinforced plastics (GFRP) in its specific tensile strength and specific elastic modulus (specific rigidity). That is to say, CFRP is "Light in Weight and Strong" in its mechanical performances.
Moreover, fatigue resistance of Carbon Fiber surpasses that of other structural material.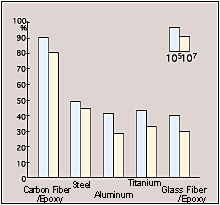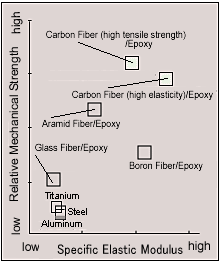 Excellent Dimensional Stability and Heat Resistance (Thermal Characteristics)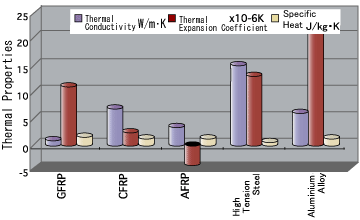 Carbon Fibers have low heat expansion ratio and high dimensional stability, and sustains its those excellent mechanical performances even under high temperature region.

GFRP: Glass Fiber Reinforced Plastics
CFRP: Carbon Fiber Reinforced Plastics
AFRP: Aramid Fiber Reinforced Plastics
Highly Electric Conductive and Excellent EMI Shielding Propaerty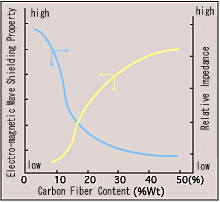 Carbon Fibers have high electric conductivity (volumetric impedance) and at the same time have excellent EMI shielding property. This successfully brings CFRP to the field of EMI shielding.
Magnificant X-ray Permeability
 As Carbon Fibers have magnificent X-ray permeability in addition to being light in weight and rigid, CFRP is highly welcomed in the field of medical equipment parts. CFRP contributes to attain sharper and clearer photo images.